There are so many variations of this appetizer, which is basically a plant-based version of liver paté. In my version I used lentils, mushrooms, and walnuts to achieve the perfect texture and flavor combination that will wipe your memory clean of the organ meat variety and will keep you coming back for more!
When it comes to food preparation, I like to keep it simple! But, when I'm asked to bring an appetizer to a friend's house for dinner, I aim to impress and more importantly, to please.
My food is an extension of me and an expression of my creativity, so naturally I want it to taste and look good. So instead of just doing an appetizer, I made a whole platter out of it. It was so pretty, it made me happy just to look at it. And it tasted good too. Always a relief!
I started by cleaning and soaking my lentils for 15 minutes, and in a separate bowl, I put the dehydrated mushrooms to soak.
Next, I chopped the onion and garlic and let it sit while I prepared the other ingredients.
Meanwhile, I lightly toasted the walnuts and set them aside in a separate plate. This step does't take very long, so be sure to watch that they don't burn.
When the mushrooms were soft (about 15 minutes later) I strained the liquid and saved it for later use. I also put the lentils to cook in a saucepan.
While the lentils were cooking, I sautéed the onion and garlic.
I then added the mushrooms to the onion and garlic mixture and sautéed them together about 10 minutes on medium low heat. I seasoned the mixture with a little salt, pepper, Rosemary, and Thyme. These herbs have a stronger flavor and are a beautiful addition to a meat-like dish.
When the lentils were ready, I combined all my ingredients in the food processor. You may want to do this in batches as it makes quite a large portion. I added the liquid from the mushrooms and some of the liquid from the lentils to thin it out. If it still seems a bit thick you can add ¼ to ½ cup of olive oil to make it creamy.
When all was done, I put the faux paté in a glass serving plate and put the vegetables around it. The other dip seen here in the picture is a braised eggplant with tomato dip.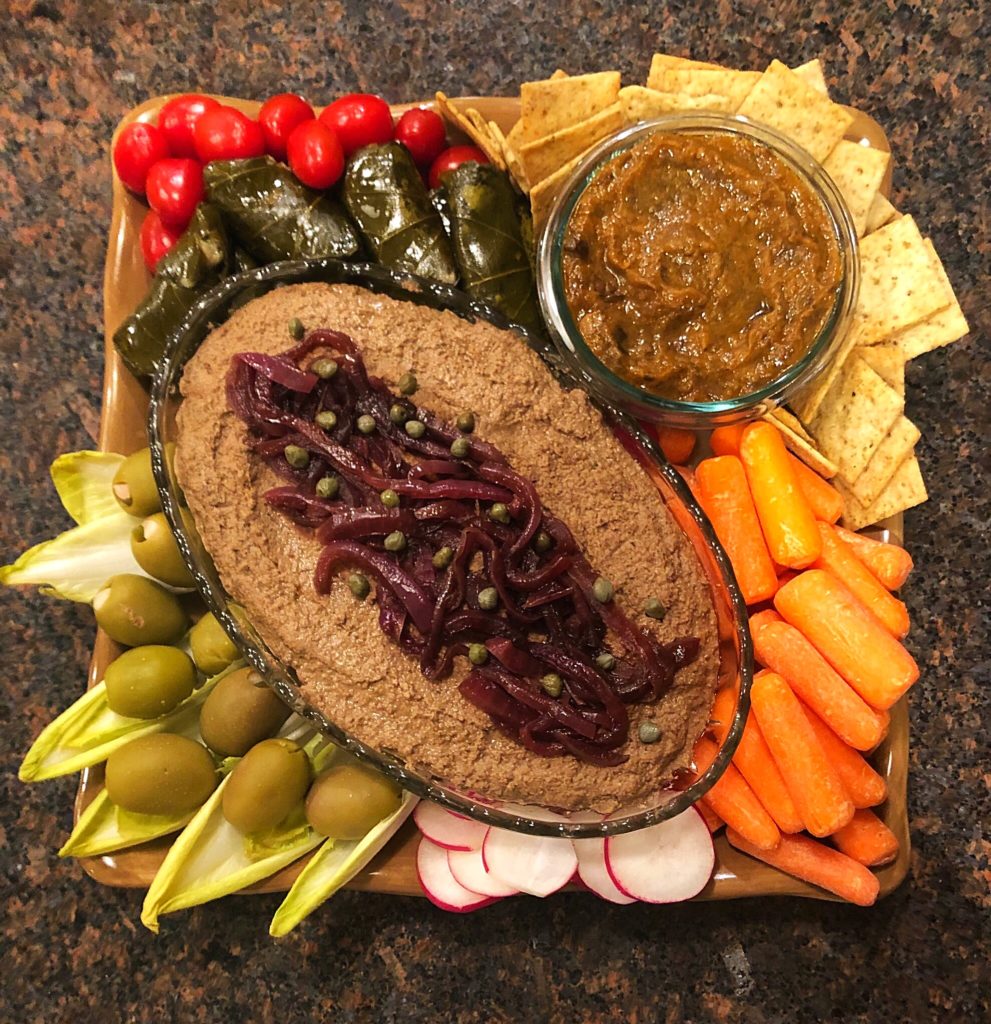 The vegetables I used for garnish are: Belgian endive, green olives, radishes, carrots, cherry tomatoes, Dolmades (stuffed grape leaves), and gluten free crackers. No body missed the gluten!
I added sautéed red onion and capers on top of the faux gras to garnish. You could just as easily do something simple like parsley instead.
Faux Gras Appetizer
Ingredients
1

cup

brown lentils

⅔

cup

mushroom mix: oyster

Black trumpet, Portobello, and Porcini

½

cup

walnuts

½

medium white onion

2

cloves

garlic

1

tsp

Rosemary

dried

1

tsp

Thyme

dried

salt and pepper

to taste

¼-½

cup

olive oil

as needed
Instructions
Chop onion and garlic cloves and set aside.

Rinse and soak lentils in water to cover for 15-20 minutes.

Place dry mushrooms in a bowl and cover with boiling water for 15 minutes to soften.

Toast walnuts on medium high heat in a dry skillet. Set aside in separate plate when toasted.

Sauté onion for 5 minutes until translucent.

Add garlic and sauté for 3 minutes more.

Drain mushrooms and reserve water, add softened mushrooms to onion and garlic mixture. Sauté for another 10 minutes on medium low heat.

Season with spices.

When lentils are cooked, combine all ingredients in food processor until smooth. Continue to add liquid reserved from mushrooms and lentils as needed to make a smooth consistency.

Add olive oil if needed to make a creamy texture.

Garnish and serve with other vegetables or crackers.