Nothing warms me up on a cold day like a bowl of soup. Paired with some rustic bread, it's a whole meal. And my potato leek soup is just the thing!
In the original French version, potato leek soup, known as Vichyssoise, is served cold and is made from potatoes, leeks, celery, chicken stock, and cream. I've lightened up this classic soup with vegetable broth and switched out the cream for cannellini beans. You still get all the creaminess without the added fat. Instead of the celery, I use fennel, which gives the soup that fresh taste, but with a little natural sweetness from the fennel.
This version of PLS can be served hot or cold and is delicious either way. It's easy to prepare in bigger batches and freeze for a later date.
Jump to Recipe
The Players
Potatoes. Some people love to hate on potatoes. But not me. They're starchy and satisfying. Potatoes are a good source of fiber and full of antioxidants. And if you eat them with the skins (as in baked potatoes) you get vitamins (B6, folate) and minerals (calcium, magnesium, and potassium) contained therein as well.
Leeks. Big sister to the scallion, leeks are part of the onion family. The Allium family includes foods like onions, garlic, scallions, shallots, chives, and leeks. Known for their pungent taste, they are a good source of antioxidants especially flavonoids, which are known to fight certain cancers.
Fennel. Among its benefits are anti-inflammatory, supports healthy weight and clean skin, aids digestion, and a good source of iron, calcium, and vitamins A and C. I use it in this recipe instead of celery, giving the soup a slightly sweeter taste.
Onions and Garlic. I've already mentioned so many benefits of the allium family of vegetables above, but onions and garlic like leeks, are great cancer, diabetes, and heart disease fighters. They are an enormous boost to the immune system and are good for the microbiome too.
Cannellini Beans. I use these beans in this recipe to give the soup its creamy texture without having to add cream or milk. They also add protein and fiber, which most Americans do not get enough of daily. Beans are high in vitamin C, magnesium, and iron.
The really great thing about potato leek soup (pls) is that it tastes equally great hot or cold. I make it in the summertime to eat cold. Here's my recipe for potato leek soup.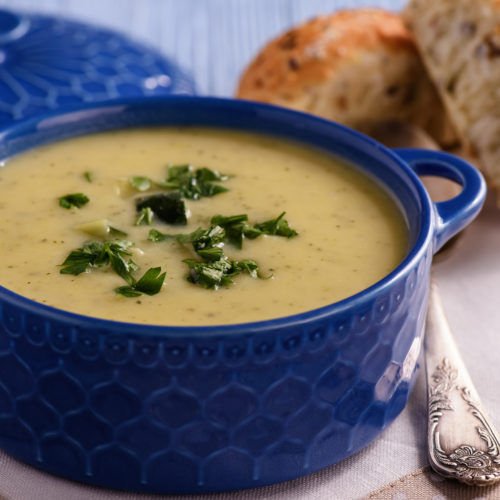 Potato Leek Soup
A creamy and hearty soup to enjoy hot or cold! My version of the original French Vichyssoise, this soup can be dressed up with a garnish of parsley, chives, or a dollop of sour cream (plant-based, of course!) It's the perfect end to a busy day and a comforting way to soothe the soul.
Ingredients
1

bulb

fennel,

diced

1/2

medium onion,

chopped

3

cloves

garlic

chopped

2

leeks,

washed and chopped

5

medium potatoes,

washed, peeled, and diced

6

cups

vegetable broth

2

Tbsp

olive oil

2

Tbsp

Herbs de Provence

salt and pepper to taste

parsley or chives to garnish
Instructions
Peel garlic and roughly chop. Set aside.

Clean leeks by slicing in half length-wise and rinsing under running water. Chop into half moon slices using white and light green parts only.

Remove core of fennel bulb and dice.

Wash, peel, and dice 5 medium potatoes.

In a large pot, add olive oil and heat over medium-high.

Add the onion and saute until translucent and soft.

Add garlic and cook 1-2 minutes more.

Add fennel and cook another 3-5 minutes.

Add leeks, give it a good stir, and cook until soft, about 5 minutes.

Add vegetable broth, cannellini beans, Herbs de Provence, and cook for 20-30 minutes.

When all vegetables are soft, puree in a blender until smoothe. Adjust the seasoning with salt and pepper as needed.

Pour into bowls and garnish with parsley.
Video