Not sure what to cook tonight?
Dumbfounded by what to eat with your protein or to meet your plant-based protein needs?
I've chosen four quinoa recipes to share with you that you simply can't go wrong with!
You can use quinoa any way you would use another grain like rice, pasta, couscous (which is pasta), buckwheat, or any other grain. Quinoa is actually a seed, but we use it in cooking in similar ways to grains. So it's great as a side dish on its own and in some of the ways I mention below.
And quinoa is a complete vegan protein because it has all nine essential amino acids. I explain this in the video below.
Recipe #1 – Quinoa
Now the first quinoa recipe is just simple, straight-up quinoa, cooked by package directions. It's hardly a recipe at all. Typically, this involves about two cups of quinoa and two cups of liquid (water or broth). I went with broth on this one to give the quinoa some more flavor. If you don't have broth, you can reconstitute a seasoning cube with some water and use that. Simple, no fuss.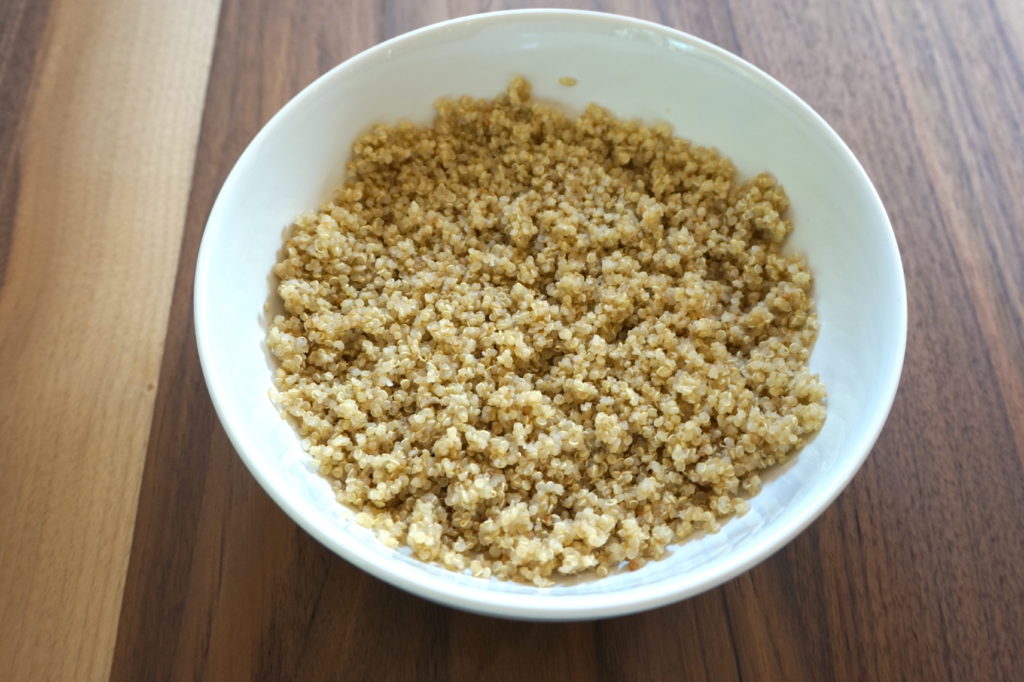 Recipe #2 – Quinoa Risotto
The second quinoa recipe I featured in my YouTube video is Quinoa Risotto. I adapted this recipe from Julie Moris's Superfood Kitchen and made it for some friends for dinner on the patio one night. The risotto itself was delicious and creamy from the cauliflower and tahini paste and the herbs added just the right flavor to it.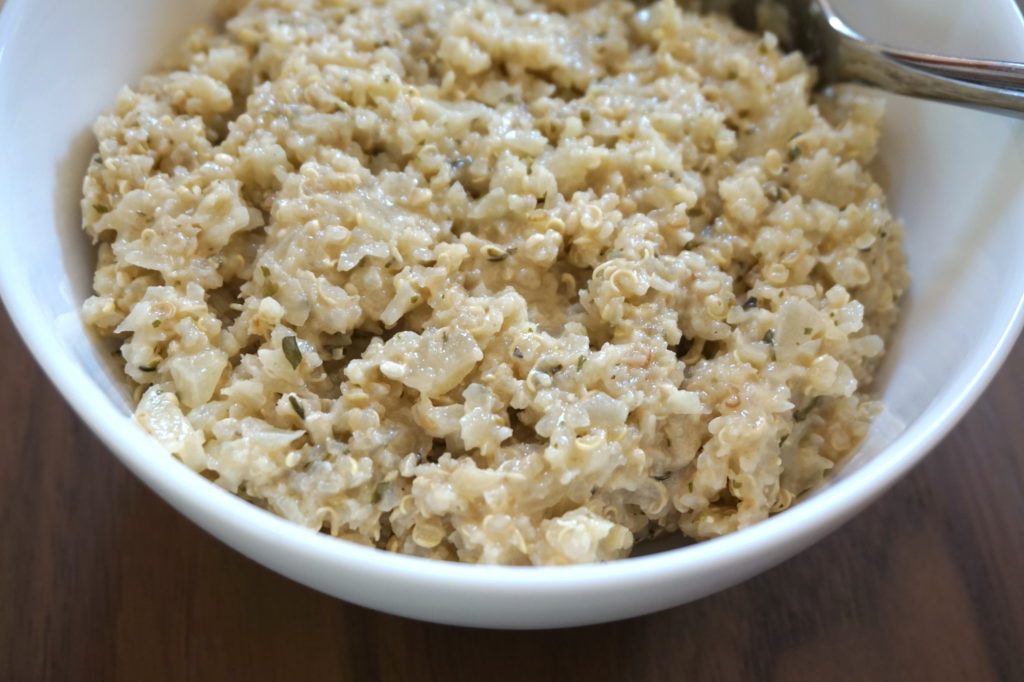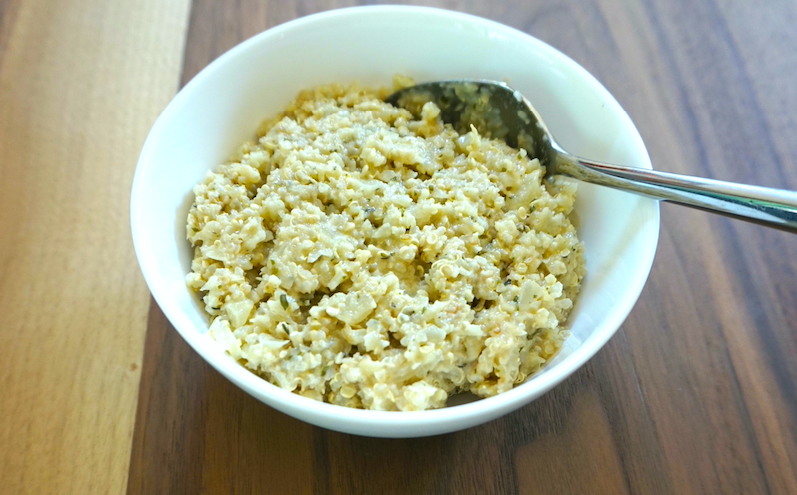 Quinoa Risotto
A vegan risotto of quinoa, cauliflower, and tahini.
Ingredients
1

small to medium yellow onion

1

small head of cauliflower

1

Tbsp

extra virgin olive oil

1 ½

Tbsp

tahini

1

Tbsp

nutritional yeast

1

Tbsp

miso paste

1 ½

cups

vegetable broth

1 ½

cups

cooked quinoa

½

Tbsp

lemon juice

¼

cup

hemp seeds

2

Tbsp

fresh parsley

chopped

salt and pepper

to taste
Instructions
Finely dice the yellow onion and set aside.

Wash and separate cauliflower florets. Rice in a vegetable ricer or in a food processor.

Prepare the sauce by whisking together the olive oil, tahini, nutritional yeast, miso paste, and vegetable broth.

Now you're ready to start cooking! Add the oil to a hot pan with the onions and saute for a minute or two.

Add the riced cauliflower to the pan with the onions and cook for five minutes to allow cauliflower to soften.

Next, add in the previously prepared quinoa and sauce. Stir to combine and simmer until liquid has been absorbed (5-10 minutes).

Once the liquid has evaporated, remove from heat, add in lemon juice, and hemp seeds. Season with salt and pepper.

Sprinkle with parsely and serve!
Recipe #3 – Quinoa Cauli Soup
I enjoyed the flavor of the risotto so much, I thought, "it must be delicious as a soup." And it was! I took about two cups of the risotto mentioned above and added ¾ cups of broth to it to dilute it and make it more of a soup.
It was easy, hearty, and hit the spot. When I need a quick meal option, many times I rely on soups. Soups have it all – the vegetables, the liquid, and good ole fashioned sustenance!
My grandmother always used to say when I was younger that you need to have a bowl of soup each day. No matter summer or winter. The thought behind this was that your bowels would move easier if you ate soups. We are, after all, 70% water in our own constitution. Because soups are so filling, they're a great way to stretch your produce and feed a group. And… keep your bowels moist!
Turns out, turning the risotto into a soup was a really good idea and another way to use up the leftovers.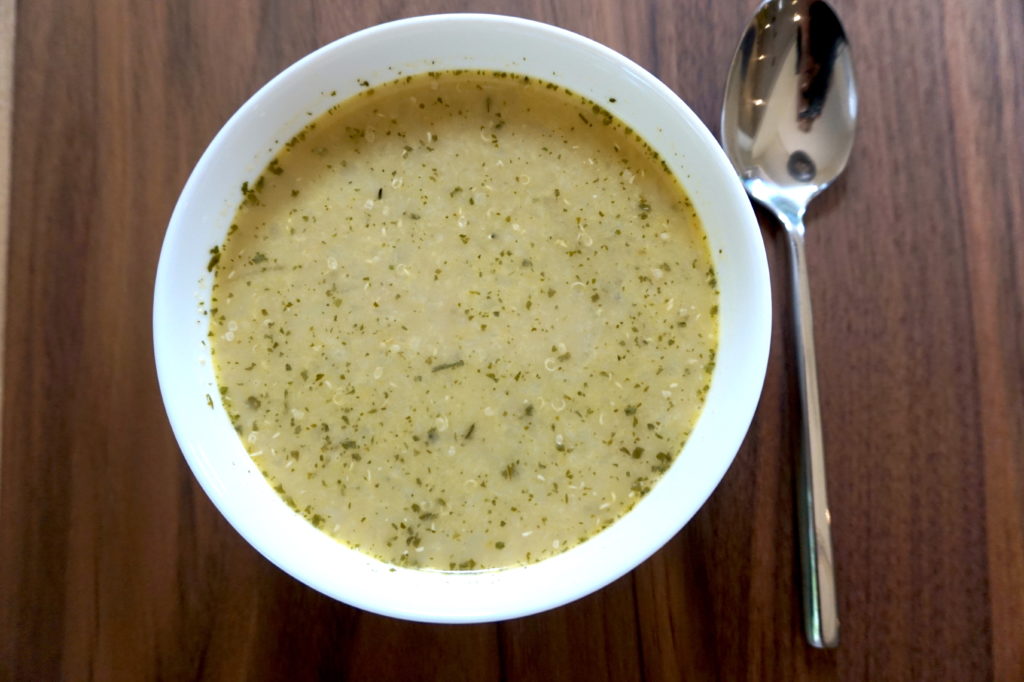 Recipe #4 – Colorful Quinoa Salad
This was such a gem!
I took my leftover plain quinoa, added some steamed veggies (three colors of carrots, asparagus, and peas), a handful of pistachios, and some homemade Italian-style dressing, and voilà – a quinoa salad! I could've easily used pasta in this salad but the quinoa was already made.