I love fresh tomatoes in the summer. And I love reusing leftovers in creative ways so I don't have to eat the same thing all week. So I've combined these two ideas in these recipes using summer tomatoes two ways.
Originally, I had made a bruschetta of tomatoes, basil, and scallions. I added lemon juice and a bit of olive oil, some salt and pepper to taste, and ate that fresh on some gluten-free bread.
But I had a lot of leftover bruschettas and tomato topping.
So I decided to use the tomato mixture in a tabouli salad.
I combined two bunches of chopped-up parsley and the leftover tomato mixture, corrected the seasoning, and let all the flavors marry overnight. The whole process takes minutes and is cool and refreshing to eat.
If you have fresh mint you can add it to the tabouli as well, but it's optional.
You can see what I did in this YouTube video here.
I've posted both recipes so you can make the recipes if you wish. If you do make the recipes, I would love to know your thoughts.
Personally, in these hot summer months I enjoy eating clean, simple, easy to prepare foods that don't need cooking. And these recipes satisfy all of those points. As an added benefit, they are wildly full of flavor!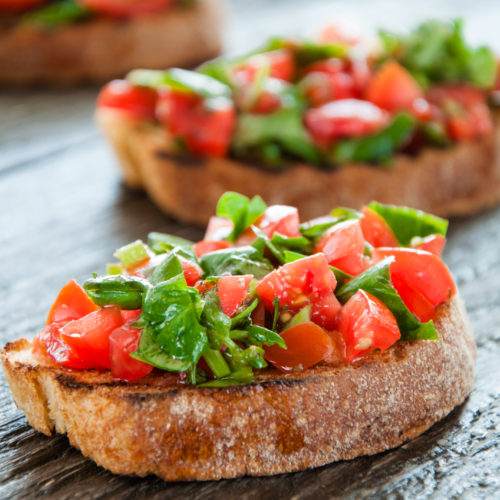 Classic Italian Bruschetta
Crusty Italian bread topped with tomato, basil mixture.
Ingredients
4-5

tomatoes (medium on the vine)

4-5

basil, large leaves, chopped

2

cloves garlic, minced or finely chopped

can substitute shallots or scallions if there are garlic allergies

2

tbsp

olive oil, extra virgin

or regular, cold pressed if you like a stronger olive taste

1

tbsp

red wine vinegar

salt and pepper, to taste

1

baguette, sliced on the diagonal

garlic for rubbing toasts or garlic-infused olive oil
Instructions
Dice tomatoes into small dice.

Arrange basil leaves in a stack and gently roll them up. Slice the leaves to produce thin ribbons. (Chop lightly horizontaly to dice if desired.)

Combine diced tomatoes, basil, and all the rest of the ingredients through salt and pepper and let stand at room temperature for an hour, then store in teh refrigerator until ready to use.

Toast the bread slices and lighlty rub with a clove of garlic.

Top with tomato mixture and serve.
With the tabouli recipe, I was just trying to find a creative way to consume the leftover tomato basil mixture without having to use more bread.
Part of eating clean for me is minimizing the amount of processed food I eat. Bread is something I do not bake myself, especially gluten-free bread. So incorporating the tomato mixture into a salad is the perfect solution!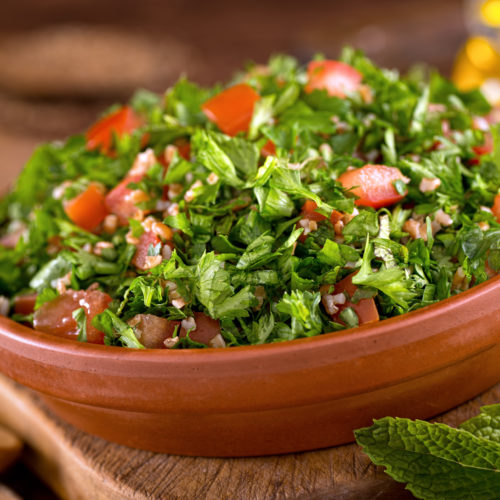 Tabouli
A refreshing Middle Eastern salad of parsley and tomatoes.
Ingredients
2

bunches

parsley, chopped

1

large tomato, or 2-3 Roma tomatoes

diced small

2

cloves

garlic

minced

2

tbsp

lemon juice

1

tbsp

olive oil

extra virgin

salt and pepper, to taste

fresh chopped mint

optional
Instructions
Mix all ingredients together and let the flavors "marry" overnight.

Store in the refrigerator.
Recipe alternative:
Use the leftover tomato topping, as is, from the bruschetta to mix with the parsley. Allow flavors to combine overnight. Correct seasoning as needed.